Welcome to the Eye, which features a full slate for Wednesday night, including the enticing pitching matchup of Seattle's Felix Hernandez vs. San Francisco's Madison Bumgarner at Safeco Field. King Felix will try to rebound from a horrible outing five days ago, one of the worst of his career, in which he allowed eight runs and five hits in one-third of an inning against the Astros.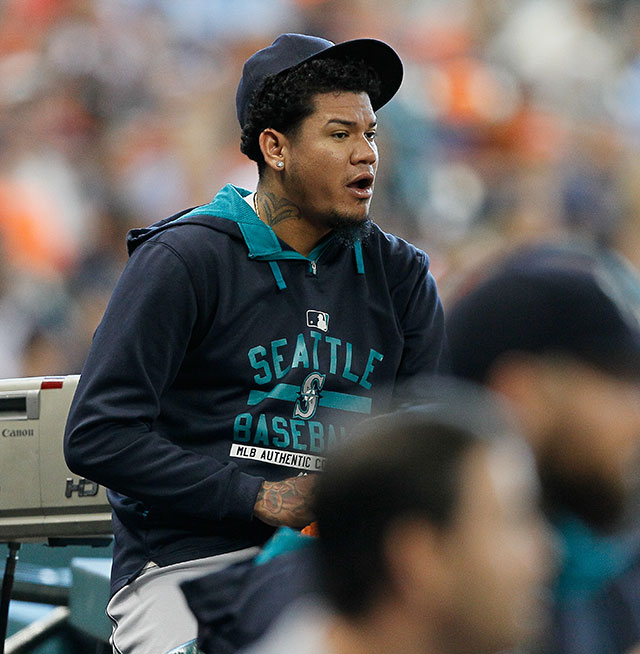 MLB.com notes that Felix is 2-0 with a 2.57 ERA in three career starts against the Giants, all at Safeco. He has been struggling in June, however.
If you can't stay up that late and want Cy Young-caliber pitching, then tune to David Price of the Tigers vs. Johnny Cueto of the Reds at Great American Ball Park. Price is going for his third straight complete game, something a Tigers pitcher hasn't done since Jack Morris in 1990. Cueto, who is on trade watch, has posted a 2.85 ERA and strikes out one batter for every inning he pitches. He'd look good in Kansas City, or anywhere, really.
The slate for Wednesday night (all times ET) (Full scoreboard)
Yankees 2, Marlins 1 (Box score): Michael Pineda took a no-hitter into the seventh inning before Christian Yelich broke it up with a home run. Adeiny Hechavarria was thrown out at the plate on the contact play in the eighth and Dellin Betances nailed down the five–out save, striking out Giancarlo Stanton in the process. Alex Rodriguez went 2 for 2 with two walks. He's three hits away from 3,000.
Blue Jays 8, Mets 0 (Box score): This game was reasonably close until the eighth inning, when the Blue Jays scored five runs off rookie Akeel Morris, who skipped Double-A and Triple-A and was called up from Single-A. Kevin Pillar and Danny Valencia went deep for Toronto and Drew Hutchison turned in 5 2/3 scoreless frames.
Orioles 6, Phillies 4 (Box score): This game didn't feel as close as the score indicates. The O's scored four runs in the fourth to take a 5-1 lead before Freddy Galvis whacked a three-run home run off Ubaldo Jimenez in the late innings. Chris Parmelee went deep for his third homer in two games with Baltimore.
Rays 5, Nationals 0 (Box score): Home runs by Steven Souza and Curt Casali paced the offense for Tampa Bay, who also scored three runs on errors by Washington. The Nats had just two hits — singles by Bryce Harper and Ian Desmond. Jordan Zimmermann allowed three runs in seven innings to fall to 5-5 with a 3.75 ERA on the year.
Cubs 17, Indians 0 (Box score): Oh geez, this was bad. The Cubbies scored six runs in two innings against Shaun Marcum, three runs against Nick Hagadone (he recorded zero outs), and then seven runs against position players Ryan Raburn and David Murphy. Kris Bryant hit a grand slam off Murphy. Addison Russell, Anthony Rizzo and Chris Denorfia also went deep for Chicago.
Braves 5, Red Sox 2 (Box score): The Red Sox led 2-1 in the seventh inning before the bullpen — specifically Junichi Tazawa, Tommy Layne and Craig Breslow — melted down. Pedro Ciriaco, Nick Markakis and Cameron Maybin had run-scoring hits in the late innings. Alex Wood struck out seven and allowed two runs (one earned) in six innings.
Games upcoming or still undeway:
AWAY
HOME
TIME
AWAY STARTER
HOME STARTER
NATL TV
Detroit
Cincinnati
7:10 pm
Price (6-2) – 2.44 ERA
Cueto (4-4) – 2.85 ERA
St. Louis
Minnesota
8:10 pm
Martinez (7-2) – 2.93 ERA
Milone (2-1) – 4.15 ERA
Milwaukee
Kansas City
8:10 pm
Fiers (3-6) – 4.04 ERA
Blanton (0-0) – 1.80 ERA
Pittsburgh
Chi. White Sox
8:10 pm
Locke (3-3) – 4.90 ERA
Danks (3-6) – 5.29 ERA
Houston
Colorado
8:40 pm
Oberholtzer (1-1) – 2.25 ERA
Kendrick (2-8) – 5.87 ERA
L.A. Angels
Arizona
9:40 pm
Santiago (4-3) – 2.59 ERA
Anderson (2-1) – 2.82 ERA
San Diego
Oakland
10:05 pm
Despaigne (3-4) – 4.38 ERA
Chavez (2-6) – 2.64 ERA
San Francisco
Seattle
10:10 pm
Bumgarner (7-3) – 3.16 ERA
Hernandez (9-3) – 3.38 ERA
Texas
L.A. Dodgers
10:10 pm
Rodriguez (3-2) – 3.03 ERA
Kershaw (5-3) – 3.21 ERA
Milestone Watch
Longest active hit streak: Cubs rookie Kris Bryant has hit in 12 straight. He extended his streak by going 1-for-4 in the loss to Cleveland on Tuesday.
A-Rod watch: With two singles on Wednesday night, A-Rod is now at 2,997 career hits. Only three away from 3,000!
Schwarber's first hit: Cubs rookie masher Kyle Schwarber picked up his first career hit on a triple. Though I suppose it could have been called a three-base error since Carlos Santana whiffed on the ground ball. Here's the video:
Daily Awards
Nickname of the day: "Hey coach." "Hey player."
Strikeout of the day: I have no idea what Dee Gordon is doing here. He had to forget the count, right?
Unfortunate sign of the day: Folks, if you're from Salt Lake City, Utah, don't abbreviate it SL, UT. (h/t Reddit)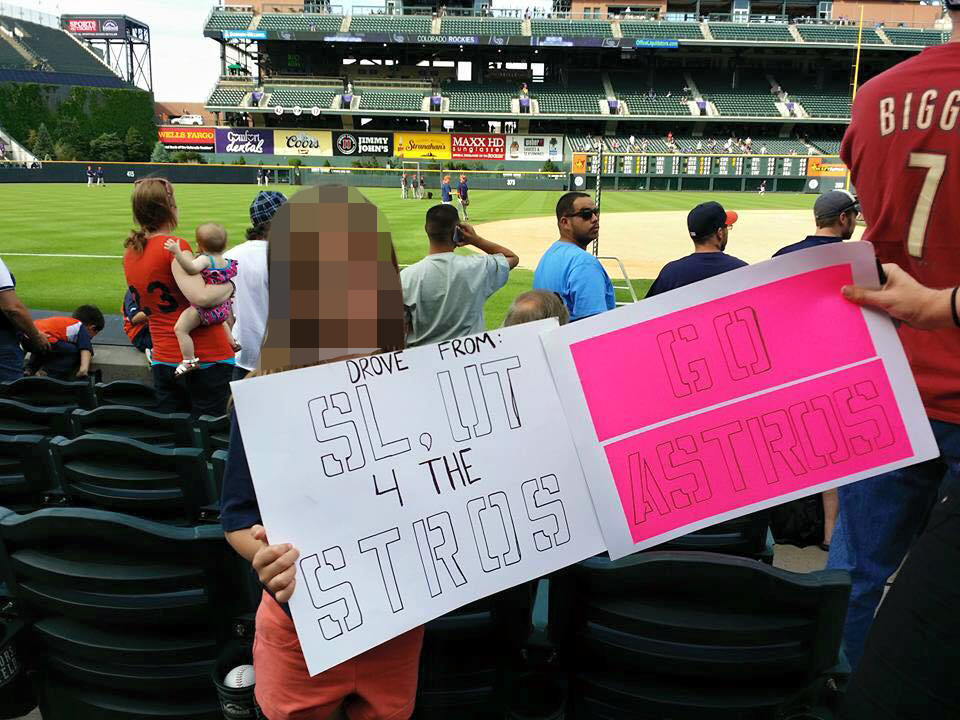 We pass these out to deserving parties only. More to come throughout the night.
News, injuries and rumors
Votto not in starting lineup against Tigers
Cubs recall Yoervis Medina, send Zac Rosscup to DL
Denard Span out of the lineup with back stiffness
Andrelton Simmons out again with sore hand
Danny Duffy strikes out six in rehab start
Braves demote Mike Foltynewicz to minors
Strasburg strikes out six in first rehab start
Blue Jays 2B Devon Travis will head to Triple-A for rehab stint
Miguel Gonzalez (groin) improving in rehab process
Click here for more player news
Looking ahead to Thursday (all times ET)
We've got a full slate of games on Thursday, including a whole bunch of day games.
AWAY
HOME
TIME
AWAY STARTER
HOME STARTER
NATL TV
Baltimore
Philadelphia
1:05 pm
Norris (2-4) – 8.29 ERA
O'Sullivan (1-5) – 5.08 ERA
St. Louis
Minnesota
1:10 pm
Garcia (2-3) – 2.06 ERA
Pelfrey (5-3) – 3.18 ERA
Houston
Colorado
3:10 pm
McHugh (6-3) – 5.08 ERA
Hale (2-1) – 4.56 ERA
San Diego
Oakland
3:35 pm
Kennedy (3-5) – 5.84 ERA
Graveman (3-3) – 4.22 ERA
L.A. Angels
Arizona
3:40 pm
Wilson (4-5) – 3.60 ERA
Webster (1-0) – 3.18 ERA
Tampa Bay
Washington
7:05 pm
Archer (7-4) – 2.00 ERA
Fister (2-2) – 4.31 ERA
Miami
N.Y. Yankees
7:05 pm
Latos (2-4) – 5.44 ERA
Sabathia (3-7) – 5.38 ERA
N.Y. Mets
Toronto
7:07 pm
Colon (9-4) – 4.41 ERA
Dickey (2-6) – 5.29 ERA
Chi. Cubs
Cleveland
7:10 pm
Hammel (5-2) – 2.81 ERA
Carrasco (8-5) – 4.38 ERA
Boston
Atlanta
7:10 pm
Buchholz (3-6) – 4.22 ERA
Miller (5-2) – 2.02 ERA
Detroit
Cincinnati
7:10 pm
Verlander (0-0) – 3.60 ERA
Leake (3-4) – 4.35 ERA
Pittsburgh
Chi. White Sox
8:10 pm
Cole (10-2) – 1.71 ERA
Samardzija (4-4) – 4.84 ERA
Milwaukee
Kansas City
8:10 pm
Nelson (3-7) – 4.60 ERA
Guthrie (4-4) – 5.79 ERA
FS1
San Francisco
Seattle
10:10 pm
Vogelsong (4-5) – 4.81 ERA
Montgomery (1-1) – 1.89 ERA
Texas
L.A. Dodgers
10:10 pm
Lewis (6-3) – 4.37 ERA
Greinke (5-2) – 1.95 ERA