The life-size idols of Lord Ganesha, the gravity-defying dance moves by followers on the streets, and the general madness surrounding Ganesh Chaturthi always gets us excited. This year, the grand 10-day celebrations will begin on August 25 with the Isthapana of the Ganesh idols and will end on September 5 with the Ganpati Visarjan.
The markets are already flooded with Ganpati Bappa's favourite sweet, Modak and people are busy stuffing their bags with these delectable dumplings. If frenzied, last-minute shopping isn't your thing and you would prefer to try your experimental hat in the kitchen, then here are a few Modak recipes for inspiration.
We have interesting versions, from the time-tested classic steamed modaks to the fried ones. Also, chocolate modaks for the quintessential chocolate lovers!
Fried Modak by Jaypee Hotels & Resorts, New Delhi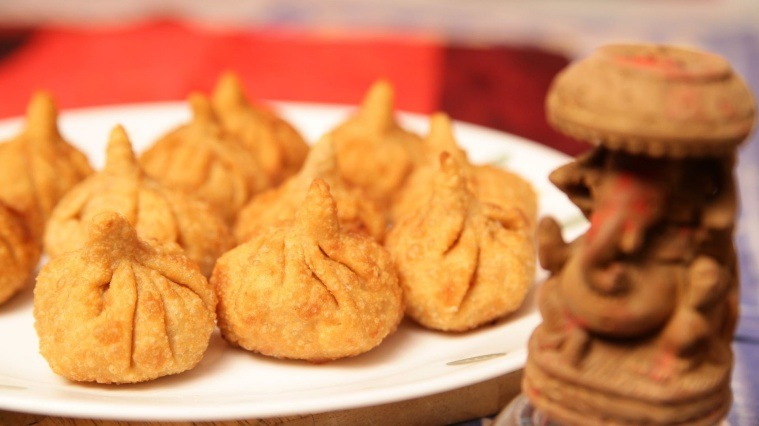 Ingredients
For the stuffing
1 cup – Grated coconut
1/2 cup – Sugar
2 1/2 tbsp – Grated low fat mawa (khoya)
1 tbsp – Chopped cashew nuts
1 tbsp – Chopped pistachios
1 tbsp – Almond slivers
1/2 tsp – Cardamom powder
For The Dough
1 cup – Whole wheat flour
1 tbsp – Semolina
2 tbsp – Ghee
A pinch of salt
Oil for deep frying
Method
For the stuffing
* Combine the coconut, sugar and mawa in a broad non-stick pan. Mix well and
cook on medium flame for 2 to 3 minutes or till it turns light brown in colour,
while stirring it occasionally.
* Add the nuts and cardamom powder, mix well and cook on medium flame for
one minute, while stirring continuously.
* Divide the mixture equally into 11 portions. Keep aside to cool completely.
For the dough
* Combine the whole wheat flour and semolina in a deep bowl and mix well.
* Heat ghee in a small non-stick pan on medium flame for 2 minutes or till it
is smoky hot. Add it to the flour mixture with a pinch of salt and mix well.
* Knead it into a semi-stiff dough and divide it into 11 balls.
* Roll each ball into a 75 mm wide circle and put a portion of the prepared stuffing in the centre. Fold the edges to create a fluted, inverted cone.
* Heat the oil in a deep non–stick pan and deep fry the Modak till it's golden brown in colour.
* Drain on an absorbent paper and serve immediately.