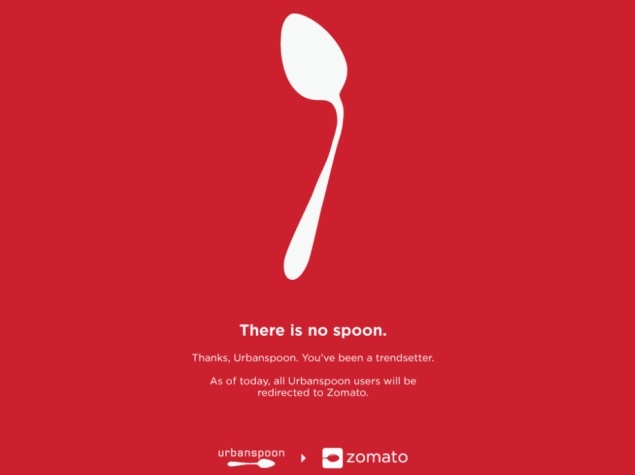 Zomato shared the above image [note for ed: There is no spoon pic as story image] on Twitter and Facebook late on Monday night, announcing the final closure of the Urbanspoon brand.
It acquired the US-based restaurant reviews site in January, and at the time, Zomato CEO Deepinder Goyal also wrote a blog post saying that its biggest challenge is now going to be taking on Yelp.
In January, Zomato COO and Co-Founder Pankaj Chaddah told NDTV Gadgets that Zomato would be closing the Urbanspoon brand. "We would have to keep two identities, two systems, two databases," he said. "It is better to work with one brand, and keep a global identity. We will migrate the product, and keep the Zomato identity."
"For us, the most important thing that Urbanspoon brings is the user base," he had added. "It also brings huge geographies and experience in those markets, and the Urbanspoon team will continue with us, though we'll be adding to it. They've also been doing some product stuff we haven't, and we'll marry what they do with our own stuff."
Either this process has been completed pretty quickly, or keeping the Urbanspoon brand around was proving more expensive – and less help against Yelp – than expected. NDTV Gadgets has reached out to Zomato to try and learn more about why the brand was closed so quickly, but have not received a response as yet.
As of now, visitors to the Urbanspoon website are redirected to Zomato; the Urbanspoon app still works, but some features of the app also no longer work, and all accounts have been migrated to Zomato.
This includes several changes for Urbanspoon users. For one, the rating system on Urbanspoon has changed, from the like and dislike system to Zomato's five point scale. Also, Zomato only allows one review per person per restaurant, while Urbanspoon had no such restrictions. It also requires people to log in to use the app, unlike Urbanspoon.
The acquisition of Urbanspoon was just one in a string of high profile acquisitions around the world, but according to Chaddah, the plan for 2015 now is to consolidate and launch new features. We've seen the rollout of features like Zomato Cashless in Dubai in February, support for online ordering and then a new app just to order food.
Although some have criticised Zomato as lacking in innovation, it's becoming increasingly clear that the company is trying to become a part of every aspect of the restaurant ecosystem, with payments and deliveries already launched, and table booking rumoured to be coming next. With that focus in mind, it perhaps makes sense that Zomato wanted to close down the Urbanspoon brand as quickly as possibly, before the two products diverged too wildly.