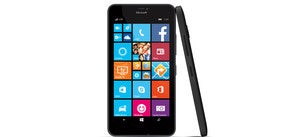 Microsoft has said that we won't be seeing any flagship Windows phones until after the Windows 10 mobile launch later this year, but anyone who's dying to get their hands on a big hunk of Windows Phone goodness at a fair price should head over to AT&T and check out the Lumia 640XL, which is making its U.S. debut in just a few days.
First announced in March during Mobile World Congress, this 5.7-inch LTE phablet is the big brother to the Lumia 640, which we recently reviewed.
The XL phablet features a 720p ClearBlack display, 1GHz quad-core Snapdragon 400 processor, 1GB RAM, 8GB of onboard storage, and a microSD slot that supports up to 128GB of additional storage. The device is also rocking a 13 megapixel camera, a 5MP front-facing camera, and comes with the Lumia Camera app. AT&T says it has up to 25 hours of talk time from the handset's 3,000mAh battery.
For software, the 640 XL comes with Windows Phone 8.1 (Denim), and Microsoft Office with a year's subscription to Office 365. The phone will set you back about $250 through payments on Next, AT&T's early upgrade program.
In January, Microsoft said the majority of Windows 8.1 phones would make the cut for a Windows 10 upgrade. Given how close to the Windows 10 roll out this phone is being released, the 640 XL will likely get the new operating system.
The impact on you at home: Anyone who's been dying to get this phone could already pick up the international version from importers on Amazon. But for those who prefer to wait for the official version from a U.S. carrier, your time is now. Well, almost. AT&T plans to release the phone on Friday, June 26. It isn't taking pre-orders and is the exclusive U.S. carrier for the 640 XL.