In addition to the ways a well-armed woman carries her firearm, which include holsters that are worn inside or outside the pants, on the waistband, on or around the waist in belly band type holsters, and other innovations, more women are happier to use a concealed carry purse. That idea is especially important with some clothing styles where a purse would be the only viable option.
Such a concealment is less obvious than other options and also is much more helpful and convenient with features built into it for safety together with having compartments for necessary items such as keys, identification, cell phone, wallet, money, pens, a notepad, and more.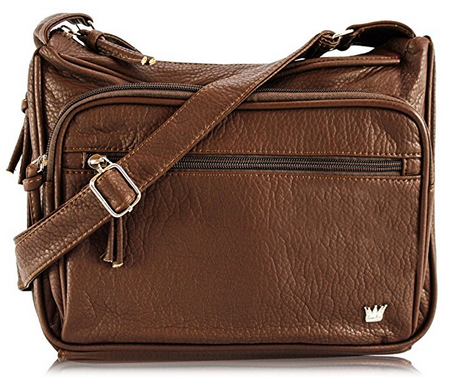 Following are a few of the available types:
Double Strap Leather Purse
This is all leather and has a locking double strap concealment which is functional and is designed for both left and right handed use with a gun compartment through a lockable zip. It is available in brown, light brown, and black. There are two main compartments on top with a zipper, a zipper pocket in front, a snap big pocket on the back, and an organizer.
Chloe Concealed Hobo With Crossbody and Wallet
Made of synthetic leather with gold-tone hardware and a choice of eight colors, this daily handbag has a concealed compartment to store the firearm, an included removable holster with a lock, and is for both left and right handed carriers. There is an eight-inch handle drop, a zip top closure, and an inside lining with both zippered and open pockets.
Dina Concealed Carry Satchel With Wallet
If you need something larger, this stylish satchel is made from high-quality faux leather that feels and looks like real leather. Available in brown, black, navy, or stone, it has gold tone hardware and a decorative lock. It has a roomy compartment, three interior pockets, a removable and adjustable shoulder strap, and a dust bag The 7″ x 11″gun pocket has both a left and right side zipper access and a holster with a hook and loop attachment.
If you shop at GlockStore.com , you will be dealing with the world's largest distributor of Glock custom guns, parts, accessories, logo gear, holsters, apparel, and concealment items. You will receive the highest level of quality and excellent service.